Not much to say, other than I found the MB0-001 certification exam interesting. This time, as opposed to previous exams, I took my reading glasses with me and that helped (problem with age is you need things like glasses). Scored a respectable 831, which provided a reasonable cushion with the 720 passing score minimum. Do not forget to use that rule of guessing that relates to getting information on one question to help you on another question. Scoring report is below: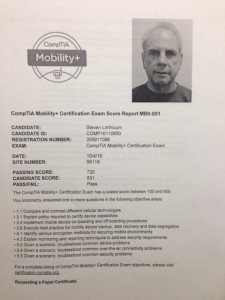 I'm somewhat undecided as to what is next. My thought is to focus on the two CompTIA exams that focus on Linux and are both required in order to obtain CompTIA's Linux+ Certification.  Candidates earning the CompTIA Linux+ Powered by LPI credential now enjoy what LPI refers to as the 3-in-1 Advantage. Completion of the CompTIA Linux+ Powered by LPI credential also qualifies candidates to earn both the LPIC-1 and the SUSE Certified Linux Administrator (CLA) credentials — three certs for the price of one.
I also plan to provide about 20 hours of video training concept that's focused on cybersecurity basics for middle and high school students who are participating in the CyberPatriot program. Plan is to utilize the production services and hosting provided by ITPro.TV. Goal will be to produce the content in mid-November. This will require my going to their production site in Gainsville, Florida.